Bopp delivers a 65 tons winch
23-03-17
Bopp, manufacturer and designer for hydraulic equipment delivered a 65 tons tugger winch on 22/03/17, a success made possible thanks to a good competitiveness, an ability to meet challenges and above all a great team work inside Bopp's walls.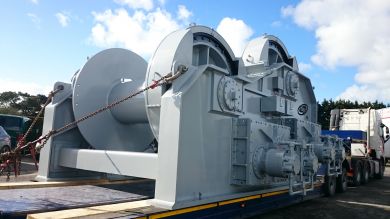 BOPP delivered a 65 tons winch – Wednesday 22th March
At the end 2015, after a fierce competition, Bopp signed a contract with Piriou group for the complete equipment of Offshore Support and Assistance Vessels (BSAH) aimed to be provided to the French Navy. Following an international call for tender Bopp is chosen for supplying: tugger winches, mooring winches, windlasses, capstans, HPU and steering gears. Altogether, four 70m vessels will be fitted with Bopp's equipments, The French Navy intends to use the BSAHs for the deployment of forces for State operations at sea.
Real team-working
This success is the result of an intense team work. Indeed, Bopp's teams were completely involved in this project and are able to make an impressive work.
Winch Performances
This tugger winch sets itself apart notably by its massive size: 6.60m length, 4.60m width, and 3.50m height. Both drums has a capacity of 1500m steel wire Ø60mm, a 150 tons first layer pulling capacity and 225 tons brake holding. The final weight is about 65 tons.